| | |
| --- | --- |
| Dental Assistants | Front Desk Associates |
| | |
| Anna, Janet, Peggy, Vickie, Elizabeth, Christina | Linda, Kristy, Mary, Chris |
---
Registered Dental Hygienists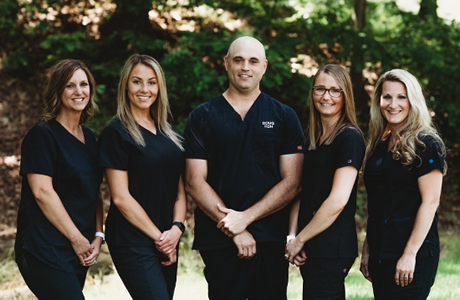 Jenny, Andrea, Doug, Kyla, Amanda

---

Registered Dental Hygienists
Amanda Lockhart, RDH

Amanda, who was raised in Wood County, is a Registered Dental Hygienist and has been working in our office for seventeen years. She is a Cum Laude graduate of West Liberty State College where she received her hygiene degree in 2000. Amanda enjoys working in the dental field. She believes being a hygienist gives her the opportunity to interact with patients individually and to help each one. Amanda believes that it is important to treat each patient in a friendly, professional manner while maintaining a comfortable atmosphere.

Outside the office, Amanda enjoys spending time with her family and pets. She has been happily married since 2006 and she and her husband have one child, Carter, born in August 2008. She loves being a mother and is looking forward to the many joys and challenges of parenting.
---
Douglas Hayes, II, RDH

Doug was born and raised in Middlebourne, West Virginia. He graduated from Tyler Consolidated High School in 1995. After completing a Bachelors degree in Business Administration in 2001 from West Virginia University Parkersburg, Doug attended West Liberty State College and graduated from Dental Hygiene School in 2006. He believes that caring for patients is very rewarding.

Doug married his high school sweetheart, Andrea, and they have a son, Gavin and two daughters, Madelyn and Isabella. He and his family share their home with their dogs Buddy and Bella, and two cats Daisy and Romeo.

He enjoys working out, listening to music and attending concerts, the outdoors, and tinkering around the house.
---
Kyla Bowles, RDH

Kyla is a Parkersburg native. She attended Parkersburg South High School and is a 2010 graduated from West Liberty University with her associates and bachelors degrees in dental hygiene. Kyla has worked with us for 9 years now. She loves the staff she works with and enjoys getting to know the patients she sees. She strongly believes in patient education and giving patients all the information they need to improve their oral health. Kyla is the leader of our children's oral health education outreach program. This program allows her the opportunity to visit and teach the importance of oral health to different schools around the area. She loves to stress the importance and benefits of flossing to her patients most of all.

Kyla has been blissfully married since 2010. In her free time she enjoys running, working out, and spending time with her Grams. Kyla is a type A-personality who enjoys organizing and cleaning. She has one kitty cat Marmalade and three dogs, Mousse, Maple, and McIntosh.
---
Jenny Nedeff, RDH

For the past 21 years, Jenny has provided quality care to her patients and has recently brought her knowledge and experience to our team. She graduated from WVU in 1998 with a Bachelor of Science degree in Dental Hygiene. She is a Parkersburg native and enjoys living and working in her hometown.

As a professional her calling is to serve people and develop relationships by promoting oral health and wellness through the provision of dental hygiene. She genuinely cares about her patients' needs and provides them with a comfortable environment while maintaining a high standard of care. She has a way of making patients feel at ease, and is always friendly and outgoing. Her favorite quote is, "Let your smile change the world, but don't let the world change your smile." –Connor Franta

Jenny's time is filled with hours watching her son play soccer and her daughter dance. When she's not busy supporting her children's talents or keeping our patients happy and healthy, Jenny enjoys yoga, hiking, biking, kayaking, and spending time with her high school sweetheart husband of 22 years.
---
Andrea Williams, RDH

Andrea graduated from Parkersburg South High School in 2012. She attended West Liberty University as a student athlete playing the center mid position, for the Hilltoppers. She was a member of SADHA and gathered a clinical scholarship for being a team player. Andrea graduated in 2017 with her Bachelor's of Science degree in Dental Hygiene.

Andrea is up-to-date on the latest technology and enjoys establishing new relationships with her patients. Her kind demeanor and caring personality is a welcome addition to our clinical team.

Outside the office, Andrea enjoys trail riding, exercising, cheering on the WVU Mountaineers and the Pittsburgh Steelers, as well as spending time with family, friends, and three kitties Ziggy, ZeZe, and Shane.