Dental Assistants

Front Desk Associates

Front row: Janet, Jessica, Cory, Christina
Back row: Cortney, Elizabeth, Erica, Vickie


Kat, Linda, Kristy, Chris
---
Registered Dental Hygienists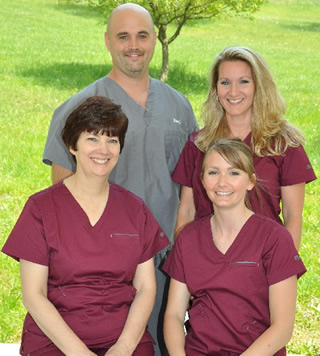 Louise, Kyla, Doug, Amanda

---

Registered Dental Hygienists
Louise Kelch, RDH

Louise is originally from Michigan. She grew up in a suburb of Detroit and attended Michigan State University. Louise graduated from dental hygiene school in 1983 and moved to Whitehall, Michigan, to work in a general dentist's office. While in Whitehall, she met her husband, Ken. After they were married, they traveled to different locations with his work for Dupont. They spent four years in Brockville, Ontario, Canada as well as Newark, Delaware. Louise and her family have lived in West Virginia for almost eighteen years and they feel "very fortunate to have located here with the beautiful mountains and the friendliest people in the country". They are currently living in Washington, West Virginia and have two children. Louise and her family have accumulated a small zoo of animals including two cats and three donkeys.
Louise says she enjoys working with Dr. Dunn, Dr. Bowling, and Dr. Lynch-Bowling and says that when she's not working she enjoys walking, reading, cooking, and shopping.
---
Amanda Lockhart, RDH

Amanda, who was raised in Wood County, is a Registered Dental Hygienist and has been working in our office for seventeen years. She is a Cum Laude graduate of West Liberty State College where she received her hygiene degree in 2000. Amanda enjoys working in the dental field. She believes being a hygienist gives her the opportunity to interact with patients individually and to help each one. Amanda believes that it is important to treat each patient in a friendly, professional manner while maintaining a comfortable atmosphere.

Outside the office, Amanda enjoys spending time with her family and pets. She has been happily married since 2006 and she and her husband have one child, Carter, born in August 2008. She loves being a mother and is looking forward to the many joys and challenges of parenting.
---
Douglas Hayes, II, RDH

Doug was born and raised in Middlebourne, West Virginia. He graduated from Tyler Consolidated High School in 1995. After completing a Bachelors degree in Business Administration in 2001 from West Virginia University Parkersburg, Doug attended West Liberty State College and graduated from Dental Hygiene School in 2006. He believes that caring for patients is very rewarding.

Doug married his high school sweetheart, Andrea, and they have a son, Gavin and two daughters, Madelyn and Isabella. He and his family share their home with their dogs Buddy and Bella, and two cats Daisy and Romeo.

He enjoys working out, listening to music and attending concerts, the outdoors, and tinkering around the house.
---
Kyla Bowles, RDH

Kyla is a Parkersburg native. She attended Parkersburg South High School and is a 2010 graduate from West Liberty University with her associates and bachelors degrees in dental hygiene. Kyla has worked with us for 4 years now. She loves the staff she works with and enjoys getting to know the patients she sees. She strongly believes in patient education and giving patients all the information they need to improve their oral health. Kyla is the leader of our children's oral health education outreach program. This program allows her the opportunity to visit and teach the importance of oral health to different schools around the area. She loves to stress the importance and benefits of flossing to her patients most of all.

Kyla has been blissfully married since 2010. In her free time she enjoys running, working out, and spending time with her family. Kyla is a type A-personality who enjoys organizing and cleaning. She has on kitty cat Marmalade and two boxers, Mousse and Maple.